Logistics
Cranes down in Genoa; 1000 cars destroyed in Savona (5/11)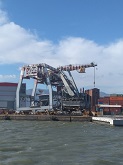 Winds gusting up to 180 kmh hammered Italy's north west coastline on 29th and 30th October, with flood waves of enormous force and topping 10m crashing onto the shore, and causing substantial damage in ports in Liguria
Global Shipping Freight Rates Slump as Trade Slows (5/11)
The cost of hiring container ships has plunged 24 percent from a multi-year peak while raw material vessel rates have slumped 10 percent from a five-year high, adding to signs of slowing global trade with dangerous implications for the economy.
UPS Tells Shippers to Prepare for Freight Strike (5/11)
United Parcel Service Inc. is telling customers to make alternative shipping plans in case of a strike in its smaller freight division, where unionized workers are set to vote on the company's final contract offer next week.
Uninterrupted Real-Time Cold Chain Logistics Management (5/11)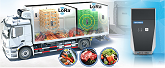 For refrigerated vehicles and cold chain logistics fleets, Advantech shows how wireless temperature and humidity sensors that can be integrated at the start of the Cold Chain process to ensure a monitoring solution via wireless data collection.
XPO Logistics to Use 5,000 Robots in Warehouses (22/10)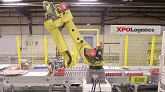 XPO Logistics said it plans to deploy 5,000 robots to work with humans in the company's warehouses and distribution centers in North America, the United Kingdom and eight countries in Europe.

OTHER NEWS