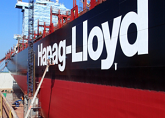 The company said it does not properly declare the dangerous cargoes before shipment is a violation of the Hazardous Materials Regulations. Violators may also be subject to monetary fines and/or criminal prosecution under applicable law.
Recall that Hapag-Lloyd suffered a fire in the cargo area of ​​the MV Yantian Express has earlier this year, which lasted for weeks and caused millions of dollars damage.

While the fire did not affect all cargo on board, he declared General Average and carriers took months to recover shipments during a long rescue operation in Freeport, Bahamas.

"To ensure the safety of our crew, ships and other cargo on board, Hapag-Lloyd blames the sender of all costs and consequences associated with violations, fines, damages, incidents, complaints and corrective action resulting from cases undeclared or declared incorrectly. charges', the German carrier said in a note to clients.

Hapag-Lloyd said the fine will be implemented from September 16, 2019, for an amount of US $ 15,000 per container.

Other carriers, such as Line of Oriental Hong Kong Foreign Container (OOCL), now a unit of Cosco, also detailed plans yesterday to crack down on dangerous cargoes and undeclared.

OOCL said in a notice to customers who "are aware that have reported an increasing number of maritime incidents in 2019, many of whom were suspected hazardous cargo that could lead unreported and/or wrongly declared"

He added that " to ensure compliance with safety on land and at sea, OOCL will strengthen its acceptance of dangerous cargo and its policy of container inspection by imposing additional verification before charging through targeted or random inspections of dangerous goods and cargo potentially dangerous".

OOCL said any inconsistency between the area declared in the documents and what was physically inside the container load fee would result in a Declaration of Dangerous Cargo Declaration, without indicating how severe the penalty would be.

Depending on the type of deficiencies found in the consignment, the container could be out of service and load could be waiting where sanctions could be imposed, and the charges associated with the misstatement would be in the account of the shipper.

According to the System Load Incident Reporting (CINS), almost 25% of all serious incidents aboard container ships are attributable to undeclared cargo.

While the exact structure of the filler content varies container it is well known that at any given time, between 5-10% of the average load of a container ship is declared as dangerous goods and approximately 12% of global container trade includes dangerous goods.

However, it is almost impossible to know the amount of hazardous cargo undeclared or declared incorrectly. Luis Madariaga, "the update on the handling of dangerous goods is an obligation".