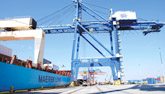 North Carolina's Port of Wilmington will now offer shippers direct access to Manzanillo, Panama, and Puerto Moin, Costa Rica, in addition to Puerto Cortes, Honduras, and Santo Tomas, Guatemala, in northern Central America, via vessel calls added by Maersk Line to its weekly South Atlantic Express (SAE) service.

New trade lanes to South America's west coast and the Caribbean for Port of Wilmington users are also open via transhipments at Manzanillo, the North Carolina State Port Authority said. "Markets in Venezuela, Colombia, Ecuador and Trinidad and Tobago are now accessible through this option. Over the road service to El Salvador and Nicaragua continues to be available from Puerto Cortes and Santo Tomas," it added.

"Under the expanded SAE service, the ports of Puerto Cortez and Santo Tomas will be called twice in the rotation, once for imports and a second time for exports, to maintain the current transit times or cargo availability. A third vessel has been added to the SAE service," the port authority explained.

Maersk has provided weekly service between the Port of Wilmington and Honduras and Guatemala for four years. The port authority estimates that Maerk's volumes from the state in the first quarter of 2013 showed 24 percent growth over the first quarter of 2010.

"The Maersk SAE service at the Port of Wilmington largely supports North Carolina's textile and apparel industries, and is helping to sustain the jobs of thousands of North Carolina workers in these and related industries," said Jeff Miles, acting executive director for the port authority, in a statement.
"North Carolina's Ports help boost NC textile companies' bottom line with more efficient supply chain," added Peter Klaus, vice president of liner sales for the port.
American Shipper