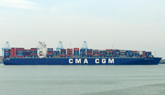 FRENCH shipping group CMA CGM Group has commenced a new container shipping service between Morocco and Europe, the Dunkrus Express, for Moroccan citrus fruit and fresh vegetable exporters.

The new service for the upcoming 2012/13 shipping export campaign is being launched as part of a revamp of its Agadir Express service, and also aims to strengthen the Agadir-Port of Vendres service. It offers customised door-to-door delivery services for European customers to receive fresh products.

The Dunkrus Express is a weekly service operated by CMA CGM with two 1,000-TEU vessels equipped with 220 reefer plugs. The port rotation is Casablanca (Sun), Agadir (Tues), Dunkirk (Sun), Antwerp (Mon) and back to Casablanca.

The service offers same-day transshipment connections at Dunkirk for St Petersburg with the container line's Baltic service to St Petersburg. It links Agadir to Dunkirk in four days and to St Petersburg in 10.5 days.

The weekly Agadir Express operated by two 1,000-TEU ships, with 220 reefer plugs and rotates through Casablanca (Tue), Agadir (Thu), Portsmouth (Mon), Rotterdam (Wed), Le Havre (Fri), and back to Casablanca (Tue).

The Agadir-Port Vendres is a twice-weekly service, with the second call a week added, that uses two 900-TEU vessels with 220 reefer plugs.
Asian Shippers News