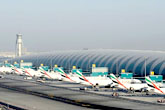 Dubai International reported a surprising decline in air freight volumes last month.
The world's second busiest airport for international passengers has rarely had a blip in cargo volumes in recent years despite global markets being bearish.
Yet although year-to-date growth remained robust, up 8.1 percent to 1,517,694 metric tons in the first seven months, throughput of 217,870 metric tons in July was 2.5 percent lower than a year earlier.
The July blip may have been the result of some traffic being transferred to neighboring hub Dubai World Central (DWC) which is also operated by Dubai Airports and saw volumes last year grow 144 percent to over 200,000 tons. Air France-KLM was scheduled to gradually relocate its regional hub to DWC this summer.
A further shift in cargo from Dubai International to DWC is also planned for next year when Emirates Skycargo will transfer its dedicated freight flights to a new base at DWC from May. The new facility will have a capacity of 700,000 tons per annum.
The Journal of Commerce