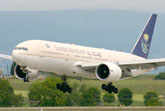 Saudia has completed its preparations to operate its first flight to Toronto in Canada, as part of expanding its international operations.
It is now in the process of preparing flight schedule and setting up the airline's operations office at Toronto International Airport. The first Saudia flight between the Kingdom and Canada will be launched on October 28, 2013.
HE Eng. Khaled Al-Molhem, Director General of Saudia, said Saudia would operate three flights weekly between the Kingdom and Toronto on Mondays, Thursdays and Saturdays and the flight in one direction would take thirteen and a half hours. The outgoing flight SV0060 will take off from Riyadh to Toronto via Jeddah while the return flight SV0061 will follow the route: Toronto-Jeddah-Riyadh.

Saudia would use Boeing 777-200 aircraft for its Toronto flights.

Saudia intends to operate another new flight to Los Angeles in the spring of 2014, which will be the airline's third destination in the United States, after Washington and New York.
Air Transport News