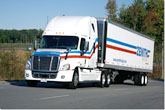 Zenith Global Logistics has expanded its Ho Chi Minh City, Vietnam, warehouse.
The specialized furniture carrier and third-party logistics provider said the expansion will help it keep up with growing demand for humidity-controlled warehousing in Vietnam.
The new bonded facility, which houses freight destined for Zenith's U.S. network, encompasses 7,500 square meters (about 24,606 square feet). It is located in the Bình Dương Province, which is a growing manufacturing region for furniture. The distribution center offers specialized racking designed specifically for home furnishings, and currently has the capacity for new customers.
"Vietnam has continued to be a key geographic market for furniture sourcing as a result of continued labor shortages in China," said Jack Hawn, president and CEO of Zenith Global Logistics, in a written statement. "We've had increasing numbers of customers come to us with a need for humidity-controlled storage. Because of the ambient climate in the region, controlling moisture levels is critical to prevent mold growth and warping of wood."
The Journal of Commerce