Amsterdam Airport Schiphol handled 383,780 metric tons of cargo in the third quarter of 2013, increasing 2.6 percent compared with the same period in 2012.
In September, cargo rose 3.9 percent year-over-year to 130,631 metric tons, bringing the total for the first nine months of the year to 1.12 million metric tons, up 1.6 percent. Schiphol's largest market remained Asia in September, with North America retaining the second position. Traffic for Europe's third-largest cargo hub has shown growth in five of the nine months year-to-date.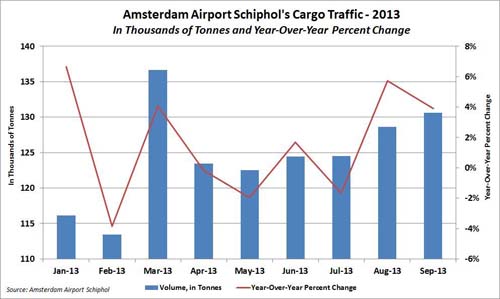 Amsterdam Airport Schiphol's cargo traffic year-to-date.
The Journal of Commerce