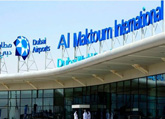 Emirates SkyCargo is gearing up for the move of its freighter fleet to Al Maktoum Airport (DWC) by signing a trucking contract with Dubai-based Allied Transport LLC, an established land transportation services provider within the United Arab Emirates and Gulf Cooperation Council (GCC). The five year contract will see Allied Transport provide road feeder services between Dubai International (DXB) and DWC for Emirates SkyCargo, including the operation of up to a fleet of 45 trucks in the first year.

Starting May 1, Emirates SkyCargo freighters will call Al Maktoum International Airport their new home. The freighters will be handled exclusively from DWC while passenger fleet belly cargo operations will continue to operate from Dubai International Airport. Therefore, the trucking of cargo between the two airports will form a critical part of the new Emirates SkyCargo operation. Dedicated road feeder services between DXB and DWC for connecting cargo will be introduced to maintain the minimum possible transhipment times between freighters and the passenger fleet.

For this year Emirates SkyCargo expects to have approximately ten trucks per hour running between DWC and DXB during peak times, with frequency to increase over the coming years. The cargo will be moved via purpose-built truck docks at both airports to achieve quick turn-around.

Emirates SkyCargo currently operates a freighter fleet of 12 aircraft - 10 Boeing 777Fs and two Boeing 747-400ERFs – all of which will move to Dubai World Central Al Maktoum International Airport.
Air Transport News