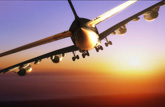 GROWTH in air cargo and passenger traffic in the Middle East between 2012 and 2032 is forecast to outstrip that of all other regions worldwide, according to a report by Alpen Capital.

In the Middle East, air cargo traffic, measured in terms of freight tonne kilometres (FTK), is expected to grow at a compounded annual growth rate (CAGR) of 7.2 per cent between 2012 and 2017.

Over that five-year period, Oman's air passenger traffic is forecast to grow at an annual rate of 7.5 per cent, reported Muscat's Times of Oman.

Air passenger traffic on outbound routes from the Middle East looks set to outpace traditional routes such as Europe-Europe, Europe-North America, and North America-North America over the same timeframe.

Within the Middle East, air passenger traffic in the UAE, Saudi Arabia and Oman is expected to increase between 6.6 - 7.5 per cent between 2012 and 2017, the report said.

Air passenger traffic in the Middle East, in terms of revenue passenger kilometres (RPK) is estimated to grow 6.7 per cent.

The Middle East aviation market is expected to receive deliveries of 2,610 aircraft between 2012 and 2032, valued at US$550 billion. As a result, the total fleet size in the region will increase at a rate of 4.7 per cent to reach 2,850 aircraft in 2032.

The Middle East maintenance, repair and overhaul (MRO) market is projected to grow at a rate of 8.6 per cent between 2013 and 2022 to be valued at $8 billion.

Among the key growth factors are abundant oil reserves in the Middle East that will ensure a stable fuel supply for the region's carriers at a cost lower than their global competitors.

"Having grown steadily over the last two decades, the GCC aviation industry has outperformed most of the other regional markets," said Alpen Capital managing director Sameena Ahmad.

"This growth is attributed to the region's rising population with high disposable income; strong presence of expatriates who travel frequently to their native countries; favourable geographic location; a burgeoning tourism sector; and an underdeveloped railway network in the region," he said.
Asian Shipper News