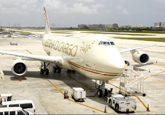 Etihad Cargo will almost double bellyhold capacity between Abu Dhabi and Chengdu later this month to cope with rapidly increasing volumes between the two cities.

Last year, the airline carried 33 percent more cargo than in 2012, transporting more than 73,000 tonnes of goods to and from China as trade flows increased, and this trend is expected to continue.

To handle the growing demand, from March 30 Etihad will boost its cargo capacity to and from Chengdu by 40 percent to 930 tonnes a month, a result of the current five times a week Airbus A330 passenger service moving to a daily operation.

Etihad Cargo is the only operator that provides a direct air link between Chengdu and the UAE capital, where cargo can connect seamlessly to destinations across the globe.

Beyond increasing bellyhold cargo operations into Chengdu in 2014, Etihad Cargo will continue to deploy substantial maindeck freighter capability to Shanghai (seven per week), Hong Kong (six per week), Beijing (two per week), and Guangzhou (two per week). These services will operate using a mix of Airbus A330F, Boeing 777F and Boeing 747F aircraft.

The airline will also continue to offer daily bellyhold cargo capability between Abu Dhabi and Beijing, Abu Dhabi and Shanghai, and with its equity partner Air Seychelles, between Abu Dhabi and Hong Kong.


Cargonews Asia