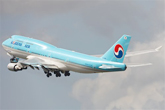 KOREAN AIR is commencing new service between Seoul/Incheon and the Saudi Arabian cities of Riyadh and Jeddah, which will be operated with an Airbus 330-200.

The Seoul/Incheon-Riyadh-Jeddah flights operate on Mondays, Wednesdays and Fridays. Flight KE961 departs at 2155 hrs and arrives in Riyadh at 0310 hrs the next day. The flight continues its journey departing from Riyadh at 0420 hrs, arriving in Jeddah at 0615 hrs.

On the return leg, flight KE962 departs from Jeddah at 1100 hrs and arrives in Riyadh at 1235 hrs. The flight departs from Riyadh at 1355 hrs and arrives Seoul/Incheon at 0500 hrs next day. From December 3 to March 2 the flight temporarily departs at 2130 hrs from Seoul/Incheon, arriving Riyadh at 0310 hrs next day.

Saudi Arabia is South Korea's fourth largest trading partner after China, the US and Japan. Riyadh, the Saudi Arabian capital, is the largest city in the country. Jeddah is situated on the Red Sea coast and is an important commercial hub and home to the Kingdom's largest port. Jeddah is also the principal gateway to Mecca.
Asian Shippers News