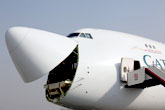 During the fourth quarter, Cathay Pacific Airways will launch twice-weekly Boeing 747-8 freighter service from Hong Kong to Guadalajara.

The flight, which will mark the carrier's first Latin American destination, is still subject to government approval.

Officials expect to transport auto parts, electronics, perishables and garments from Guadalajara. Aside from enhancing trade between Mexico and China, officials think a successful service could eventually lead to passenger offerings. But for now, Cathay is content with transporting what is anticipated to be a significant amount of cargo.

"This is the first such freighter service between Hong Kong and Mexico and is a very important step in bringing two such vibrant economies closer together," Cathay Pacific's Ivan Chu said in a statement. "With growing demand for direct cargo services between Asia and Mexico, our new freighter service will help to establish a very important trade lane between the two regions. At the same time it will help to further strengthen Hong Kong's position as one of the world's busiest international airfreight gateways."

In June, Cathay Pacific and its subsidiary Dragonair carried 122,170 tons of cargo, a 4.3-percent, year over year, drop. The load factor fell by 4 points to 61.7 percent due to a 2.2-percent rise in capacity. Demand to North America during the month outpaced demand to Europe, which was characterized as "weak."

Cathay decided to reduce its future freighter fleet in March, canceling an order for eight Boeing 777-200 planes and replacing them with three 747-8 freighters. It was also reported at the time that the carrier would sell four of its 747-400 converted freighters back to Boeing.
American Shipper