Doosan Heavy Industries Vietnam (Doosan Vina) was named the winner of a Bronze Stevie® Award in the Communications/PR campaign/program of the year – internal communications category in The 10th Annual International Business Awards announced on 15 August 2013.
The International Business Awards are the world's premier business awards program. All individuals and organizations worldwide – public and private, for-profit and non-profit, large and small are eligible to submit nominations. The 2013 IBAs received entries from more than 50 nations and territories.
Nicknamed the Stevies for the Greek word for "crowned," the awards will be presented to winners at a gala awards banquet at the W Hotel in Barcelona, Spain on 14 October.
More than 3,300 nominations from organizations of all sizes and in virtually every industry were submitted this year for consideration in a wide range of categories, including Most Innovative Company of the Year, Management Team of the Year, Best New Product or Service of the Year, Corporate Social Responsibility Program of the Year, and Executive of the Year, among others. Doosan Vina won in the Communications/PR campaign/program of the year – internal communications category.
The award was for Doosan Vina's two internal communication vehicles, Doosan Vina Television (DVTV) and Doosan Vina News (DVN). These communication channels are the main way the company shares information and updates their 2,300 employees and other stakeholders with pertinent and relevant information. The 110 hectare complex is the forward strategic production base of the Doosan Group of South Korea and is located in Vietnam's Quang Ngai Province within the Dung Quat Economic Zone. "It is a tremendous honor for us to win an international award like this, especially since we only held our Grand Opening a little more than four years ago. I would like to express my congratulation to the Public Relations & Communications team who are the key people responsible for this achievement." said Hang Ha Ryu, Doosan Vina's CEO's and General Director.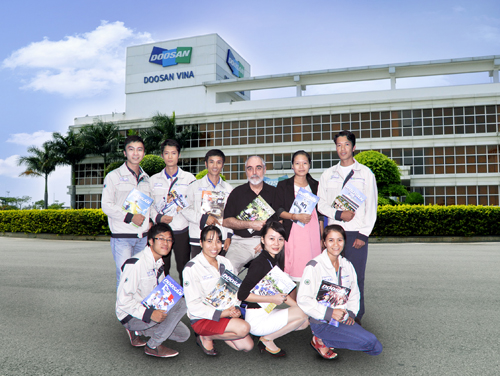 Doosan Vina Public Relations & Communications Team members and the Doosan Vina News.
Stevie Award winners were selected by more than 250 executives worldwide who participated in the judging process this year.
"The 2013 International Business Awards are noteworthy for featuring the best collection of entries we have ever received," said Michael Gallagher, president and founder of the Stevie Awards. "The judges have been unanimous in their comments about the quality of achievements, and the expertise with which they were portrayed, in the nominations we received this year. We extend our most heartfelt congratulations to all of this year's Gold, Silver and Bronze Stevie Award winners."
VietnamShipper