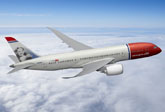 Airline Norwegian Air Shuttle is launching a list of new routes between the Nordic region and the US in a bid to increase its presence in the long-haul business, reported Dow Jones Newswires.

"The major traffic streams currently go between the US and Europe and there's great demand for high-quality flights at a low fare between the two continents," chief executive Bjorn Kjos said.

Norwegian Air will in the spring 2014 launch routes from Oslo to Los Angeles, Oakland-San Francisco and Orlando, from Stockholm to Los Angeles and San Francisco, and from Copenhagen to New York and Los Angeles, it said.

The low-cost airline will use newly-ordered Dreamliner 787 aircraft from Boeing Co on the routes, it added.

Norwegian Air has ordered a total of eight Dreamliners but may buy more as its long-haul operations grow, its communications manager Asa Larsson told The Wall Street Journal. It has received two of the aircraft so far, and will add one in November, one early next year, and the rest further on, she said.

Norwegian opened its first long-distance service in May this year, from the Nordics to New York, Fort Lauderdale and Bangkok.
Cargonews Asia