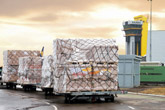 AIRPORTS Council International (ACI), a worldwide association of airports with 592 member airport authorities, reports air freight volumes at the world's airports stayed positive for a fifth month in a row, with February's throughput rising 2.6 per cent year on year.

The growth in air freight traffic was primarily fuelled by strong recovery in Europe's airports, which were up 3.9 per cent in February year on year. Amsterdam fared the best at 8.7 per cent increase followed by Paris (4.9 per cent) and Frankfurt (3.4 per cent), according to ACI's FreightFlash preliminary statistics.

North America and Latin America-Caribbean recorded average growth rates of 2.6 per cent in February and 3.4 per cent for the year to date. North America's domestic air freight weakened in a 0.5 per cent decline to show marginal growth of 0.6 per cent in February for the year to date, reported Lloyd's Loading List.

Asia-Pacific airports' slowdown of 1.4 per cent average growth reflected subdued volume due in particular to slowdown in the Chinese economy. Domestic air freight for the region was up 9.7 per cent in February.

ACI World's economics director Rafael Echevarne said while North America and Europe get back on course "a cyclical slowdown in emerging markets such as China will likely translate into subdued growth in the global freight market."

Another emerging market to feel the pinch was Africa at a 4.6 per cent volume decline in February creating an overall drop for the full year to date of 3.2 per cent.
Asian Shipper News