Two most important events of global logistics industry took place in Georgia and California, USA, October 2-12, 2012, "The 26 International Air Cargo Forum & Exposition - ACF 2012" and FIATA Congress 2012- FIATA 2012. Genuine Partner Group and Vector Aviation Company were the two delegates from Vietnam taking part in the exhibitions of The 26 International Air Cargo Forum & Exposition - ACF 2012.
ACF 2012 attracted most of companies in airfreight industry in the World. This event, taking place every two years, was held by The International Air Cargo Association – TIACA in Atlanta City, Georgia from October 2 to October 4, 2012. There were more than 5,000 company leaders from airfreight industry and more than 200 companies joining the exhibition. ACF 2012 is also the 50th anniversary of this remarkable event.
After 3 days, ACF 2012 has issued its joint declaration, highlighting the more serious awareness of security in airfreight industry, speeding up the implication of security standards as well as strengthening the cooperation among TIACA, ICAO, WCO, UPU to ensure safe deliveries and airfreight security, etc. ACF 2012 also focused on trading liberalization, market accessions and challenges the industry is now facing.
Following AFC 2012, FIATA 2012 has taken place in Los Angeles, California, October 8-12, 2012. This is the biggest forum of Logistics industry and 3PLs. Under the theme "Logistics Moving the World", FIATA 2012 discussed on various important issues of global logistics such as how to overcome the current crisis, the necessity of using credit insurance to minimize risks. Some successful stories and experience of Port of Los Angeles, port of Long Beach, Los Angeles Airport and 3PL network of some leading US logistics companies were shared at this forum.
According to Mr. Nguyễn Thanh Hân, the president of Genuine Partner Group, under the commitment to WTO, Vietnam's logistics market will be fully opened by 2014. It's time for Vietnamese companies to join into the global market. Taking part in such global events will give Vietnamese companies good opportunities to expand their partner networks, integrating more and more into the World's Logistics community. In this event, Genuine Partner Group signed up a partnership agreement with US and European companies to study NVOCC services for Indochinese countries (Việt Nam – Laos – Cambodia). "Yet our greatest joy is to see our national flag flying high among those of mighty Logistics countries. This is the evidence of the rise and integration of Vietnam's logistics industry into the world," said Mr. Hân excitedly.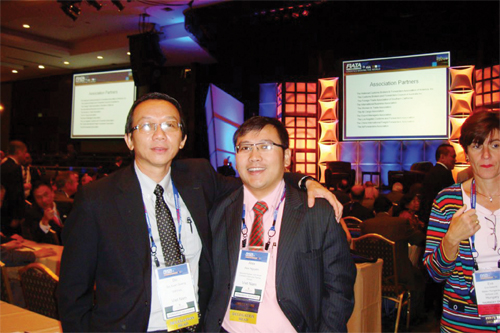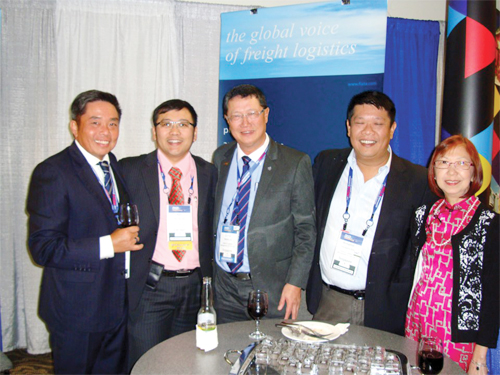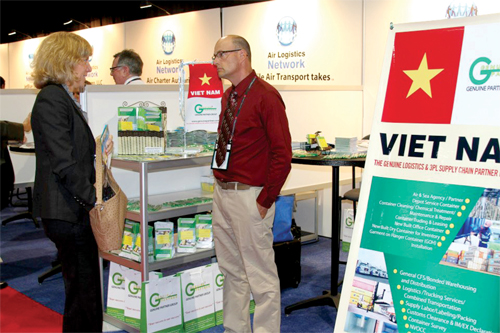 Thanh Long