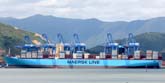 MAERSK Line's first of twenty 18,000-TEUers, the Maersk Mc-Kinney Moller, named after the late son of the parent company's founder, has left the port of Busan, South Korea on its maiden voyage.

The Triple E ship is designed to carry 11 per cent more than the previous largest ship and Maersk believes it will significantly reduce operating costs per container.

The Triple Es are key to the new P3 alliance formed by the world's three big carriers, Maersk, MSC and CMA CGM, in which the three will pool their vessels and capacity.

With the 18,000-TEUers to consume 35 per cent less fuel than older, smaller ships, there will be incentives for the alliance to pool efforts to fill the Triple Es, reported Lloyd's Loading List.

Each of the 20 vessels ordered by Maersk cost US$190 million and can be operated by a 13-man crew. From Busan the Triple E will head to a port in Malaysia, then on to several European ports.

The Triple E's can hold more than 18,000 TEU, but that is with all containers on board being loaded at about 83 per cent of capacity. Port limitations are also a factor.

Early estimates were that on the maiden voyage, the ship would max out at about 14,000 containers on board, and probably run at that rate for a while.

Asian Shipper News