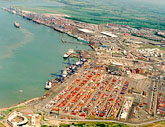 HUTCHISON's Port of Felixstowe, the UK's biggest box terminal, will increase capacity to handle 18,000-TEU ships from today's 14,000-TEU limit, which means building a new quay wall, dredging to 16 metres alongside and a 14.5-metre approach.

Hutchison has submitted an application for extending berth nine to 190 metres to allow two containerships, each averaging 400 metres in length to be handled simultaneously as both berths eight and nine are each 400 metres long, reported Lloyd's Loading List.

The capacity increase will help Felixstowe compete against London Gateway's new terminal opening next year, with its capacity of 1.6 million TEU, and DP World Southampton facility with its projected capacity boost of 600,000 TEU in 2014.

The facility has applied for a harbour revision order, which would allow it to extend the berths it opened in 2011 which were built to handle vessels of 14,000 TEU, then the biggest box ships afloat.

This will allow the port to handle vessels of 18,000 TEU due to their growing number calling at the port by the end of next year with a dredging and construction to complete within 11 months.
Asian Shipper News