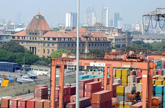 The volume of containers handled by major ports in India slipped 4.73 percent year-over-year from April to July, the first four months of fiscal year 2013-14, the Indian Ports Association said in a statement.
Throughput at the 12 state-owned ports, which account for the majority of India's exports and imports of containerized goods, totaled 2.51 million 20-foot-equivalent units, compared with 2.63 million TEUs in the same period in 2012. Containerized cargo tonnage declined 6 percent to 38.5 million tons.
Traffic at the Port of Jawaharlal Nehru (Nhava Sheva), the country's largest container handler, fell 5 percent from a year earlier to 1.38 million TEUs.
The Port of Chennai, the second-largest box gateway, moved 503,000 TEUs, down from 537,000 TEUs.
Kolkata Port's volume totaled 198,000 TEUs, down from 203,000 TEUs. The Vallarpadam Transshipment Terminal in Cochin Port handled 112,000 TEUs, decreasing from 119,000 TEUs.
At the same time, total cargo tonnage at major ports in the four-month period stayed relatively flat, at 185.5 million tons. Kandla topped volume at 30.8 million tons, followed by Paradip, at 23.1 million tons; Nehru, at 20.7 million tons; Visakhapatnam, at 19.7 million tons; Mumbai, at 17.7 million tons; and Chennai, at 17.5 million tons.
In fiscal year 2012-13, which ended March 31, 2013, India's ocean trade through major ports was estimated at 545.68 million tons, down 2.6 percent from 2011-12, with container throughput remaining flat, at 7.71 million TEUs.
The Journal of Commerce