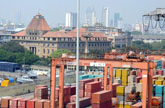 Container volume at India's major state-owned ports slipped 4.37 percent during April to August from a year earlier, but total throughput was nearly 2 percent higher, according to the latest traffic data released by the Indian Ports Association.
Box traffic for the first five months of fiscal year 2013-14 was estimated at 3.16 million 20-foot-equivalent units, down from 3.31 million TEUs in the same period last year. Containerized cargo tonnage declined 5.4 percent year-over-year to 48.6 million tons.
The volume of containers handled by Jawaharlal Nehru (Nhava Sheva), the country's largest container port, fell 4 percent to 1.73 million TEUs.
Chennai Port moved 632,000 TEUs, down from 674,000 TEUs.
Kolkata Port's volume dropped to 250,000 TEUs from 259,000 TEUs. Vallarpadam Container Transshipment Terminal, DP World's new facility in Cochin Port, handled 148,000 TEUs, decreasing from 151,000 TEUs.
Container traffic at Tuticorin Port, which is building a second terminal of 600,000 TEUs annual capacity, totaled 211,000 TEUs, compared with 200,000 TEUs.
Overall throughput at the 12 major ports in the five-month period rose to 233.2 million tons from 229 million tons, driven by moderate gains in dry and liquid bulk cargo movements.
Kandla was the top cargo handler, with throughput of 39.59 million tons, followed by Paradip, at 29 million tons; Nehru, at 26.1 million tons; Visakhapatnam, at 24.6 million tons; Mumbai, at 22.7 million tons; and Chennai, at 22.1 million tons.
The Journal of Commerce