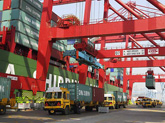 Container throughput at major ports in India tumbled 5.16 percent year-over-year from April through November, but total cargo tonnage inched up 1.43 percent, according to provisional figures released by the Indian Ports Association.
Cumulative volume in the first eight months of fiscal year 2013-14 totaled 4.9 million 20-foot-equivalent units, down from 5.2 million TEUs in the same period last year. Containerized cargo tonnage fell 5.5 percent from a year earlier to 75.3 million tons.
The latest data indicates the operational disruptions, following a series of labor disputes at the two private terminals in Nhava Sheva, adversely impacted traffic growth at Jawaharlal Nehru Port, the country's largest box gateway, where volume slumped 6 percent from a year earlier to 2.68 million TEUs.
Chennai Port handled 992,000 TEUs, decreasing from 1 million TEUs. Tuticorin Port's volume climbed to 328,000 TEUs from 313,000 TEUs.
Traffic at Kolkata Port, including Haldia Dock, was 383,000 TEUs, down from 402,000 TEUs. Vallarpadam Transshipment Terminal in Cochin Port moved 241,000 TEUs, up from 229,000 TEUs.
Other major ports suffering declines in container movements included Mumbai and Kandla.
In the April-November period, overall cargo throughput at the 12 state-owned ports increased to 365 million tons from 360 million tons. Kandla topped volume at 59.5 million tons, followed by Paradip, at 44.4 million tons; Nehru, at 40.4 million tons; Mumbai, at 38.2 millon tons; Visakhapatnam, at 37.5 million tons; and Chennai, at 34 million tons.
The Journal of Commerce