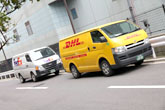 UPS Ground, Air and International and Air Freight rates within and between the U.S., Canada and Puerto Rico will increase an average net of 4.9 percent, effective Dec. 30, 2013. Last year, UPS hiked its rates by an average of 4.5 percent for air and U.S.-origin international services and by 4.9 percent for ground services.
Meanwhile, UPS's competitor, DHL Express, said it is raising its rates by 3.9 percent for U.S. customers next year, starting Jan. 2, 2014. The logistics company also recently announced increased general rates for 2014 in the Asia-Pacific region by about 5 percent.
FedEx has also announced increased rates for next year, effective Jan. 6, 2014. FedEx Express package and freight rates will increase an average of 3.9 percent for U.S., U.S. export and U.S. import services. Changes have also been announced for FedEx Express U.S. rates to Puerto Rico, FedEx International Premium rates, minimum rates for FedEx Express services and FedEx SameDay city rates and fees. Last year, the express cargo business raised 2013 rates for FedEx Ground and FedEx Home Delivery services by an average of 5.9 percent.
Shipping companies typically adjust their rates annually, taking into account inflation and other rising costs.
The Journal of Commerce