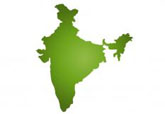 The volume of containers handled by major state-owned ports in India declined 4.56 percent year-over-year from April through October, but total cargo tonnage was up 1.68 percent, according to the latest provisional traffic data released by the Indian Ports Association.
Consolidated container throughput in the first seven months of fiscal year 2013-14 totaled 4.34 million 20-foot-equivalent units, down from 4.56 million TEUs in the year-ago period. Containerized cargo tonnage slipped 5.13 percent from a year earlier to 66.6 million tons.
Jawaharlal Nehru Port, rattled by a series of labor disputes in recent weeks, handled 4.37 million TEUs, down 3 percent from 4.5 million TEUs a year earlier. Nearly 60 percent of India's total containerized traffic moves through the three terminals at Nehru, also known as Nhava Sheva.
Volume at Chennai Port, the country's second-largest container port, tumbled 4 percent year-over-year to 881,000 TEUs.
Kolkata Port's volume dropped to 341,000 TEUs from 355,000 TEUs. Tuticorin Port moved 291,000 TEUs, up from 278,000 TEUs. Vallarpadam Container Transshipment Terminal, a DP World facility at Cochin Port, handled 210,000 TEUs, increasing from 202,000 TEUs.
The Indian Ports Association said overall cargo throughput at the 12 major ports in the seven-month period rose to 321 million tons from 316 million tons, driven by moderate gains in dry and liquid bulk cargo movements.
Kandla was the top cargo handler, with throughput of 53.5 million tons, followed by Paradip, at 38.7 million tons; Nehru, at 35.6 million tons; Visakhapatnam, at 33.2 million tons; Mumbai, at 33 million tons; and Chennai, at 30.3 million tons.
The Journal of Commerce