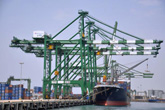 The volume of export and import containers handled by major ports in India declined 4.15 percent year-over-year from April to December, but total cargo throughput was nearly 2 percent higher, according to the latest traffic data released by the Indian Ports Association.
Cumulative container volume in the first three quarters of fiscal year 2013-14 totaled 5.53 million 20-foot-equivalent units, down from 5.77 million TEUs in the same period in 2012. Overall containerized cargo tonnage slipped 4.48 percent to 85.23 million tons.
Jawaharlal Nehru (Nhava Sheva), the country's busiest container port, moved 3.03 million TEUs, down 4.5 percent from 3.17 million TEUs.
Box traffic at Chennai Port, the second largest container gateway, was estimated at 1.1 million TEUs, compared with 1.2 million TEUs. The neighboring Port of Tuticorin, which is constructing a second terminal of 600,000 TEUs annual capacity, reported a marginal growth, having handled 369,000 TEUs, up from 353,000 TEUs.
Volume via DP World-managed Vallarpadam Container Transshipment Terminal in Cochin Port increased 4 percent year-over-year to 265,000 TEUs.
The eastern Port of Kolkata, which includes Haldia Dock, handled 431,000 TEUs, tumbling 4 percent from 450,000 TEUs.
Despite the continuing traffic slowdown, several major Indian ports are going ahead with plans to augment container-handling capacity by building new terminals through private participation. Projects in the pipeline include a 4 million-TEU fourth terminal at Nhava Sheva, as well as additional facilities at the ports of Kandla, Kolkata and Ennore.
In terms of overall tonnage, the 12 state-owned major ports handled 413 million tons from April to December, up from 405.3 million tons a year earlier. Kandla emerged as the top cargo handler with throughput of 66 million tons, followed by Paradip, at 51 million tons; Nehru, at 46 million tons; Mumbai, at 43.6 million tons; Visakhapatnam, at 43 million tons; and Chennai, at 38 million tons.
The Journal of Commerce