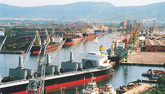 Container throughput at major ports in India climbed 3.71 percent year-over-year in April, the first month of fiscal year 2014-15, reversing declining volume trends seen over the past year, according to the latest traffic data released by the Indian Ports Association.
Consolidated monthly volume was estimated at 636,000 20-foot-equivalent units, up from 613,000 TEUs in April 2013.
The number of containers shipped via Jawaharlal Nehru Port (Nhava Sheva) totaled 364,000 TEUs, increasing from 351,000 TEUs. The west coast port, which recently awarded a $1.3 billion contract to PSA International for the construction of a 4.8 million-TEU fourth terminal, accounts for nearly 60 percent of India's total containerized ocean shipments.
The Port of Chennai moved 119,000 TEUs, down from 120,000 TEUs. Box traffic at the Port of Tuticorin increased to 43,000 TEUs from 38,000 TEUs.
Kolkata Port handled 45,000 TEUs, down from 44,000 TEUs. Traffic via Vallarpadam Transshipment Terminal, a DP World facility in Cochin Port, rose to 29,000 TEUs from 24,000 TEUs.
The Indian Port Association said total cargo tonnage at major ports surged 8.9 percent in April to 47.4 million tons from 43.5 million tons a year earlier.
Kandla Port was the top cargo handler, with throughput of 6.94 million tons, followed by Paradip, at 6.4 million tons; Nhava Sheva (Nehru), at 5.4 million tons; Mumbai, at 5.05 million tons; Visakhapatnam, at 5 million tons; and Chennai, at 4.4 million tons.
In fiscal year 2013-14, which ended March 31, 2014, India's major ports handled 555.5 million tons of cargo, up 1.78 percent from 546 million tons in 2012-13. Total yearly container traffic slipped 3 percent year-over-year to 7.46 million TEUs.
The Journal of Commerce