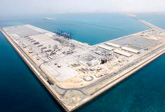 CONTAINER traffic at Abu Dhabi Ports Company's (ADPC) Khalifa Port is expected to reach 1.1 million TEU this year, a rise of 22 per cent from 905,000 TEU in 2013, when traffic rose 17 per cent.

ADPC chief executive Mohamed Juma Al Shamisi told Reuters he expects a surge in shipping traffic by the end of this year as work on major infrastructure projects in the UAE capital gathers pace.

General and bulk cargo traffic at the Emirate's Khalifa and Zayed ports combined is expected to top 12 million tonnes this year, up from 9.3 million tonnes in 2013 and roughly the same volume in 2012.

Khalifa Port, built on a man-made island roughly half-way between Abu Dhabi and Dubai, came on stream in 2012 after Zayed Port, which had been serving Abu Dhabi for over 40 years, reached full capacity.

Abu Dhabi is investing billions of dollars in infrastructure, real estate and tourism to diversify its economy beyond oil. One of the strategic projects underway is the expansion of Abu Dhabi International Airport.

Khalifa Port now has an annual capacity of 2.5 million TEU, which could be raised to five million TEU in the first phase of the port's development depending on demand.

Abu Dhabi's long-term goal is to increase capacity to 15 million TEU and 35 million tonnes of bulk cargo by 2030. All container traffic was transferred from Zayed Port. "Port Zayed will continue to serve Abu Dhabi but we want it now to focus on cruise vessels," Mr Al Shamisi said.

Ninety-two cruise vessels called at the port in 2013 with over 160,000 tourists visiting Abu Dhabi through the port. Construction of a permanent terminal to receive tourist ships is underway.

"The facilities that are there now are working but are only temporary, and we are working on having permanent facilities for cruise vessels and developing the infrastructure. This is a natural cycle for ports," he said.
Asian Shipper News