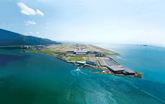 Air cargo throughput for March grew at Hong Kong International Airport (HKIA) by 10.4 percent year over year.
Airfreight throughput grew to 397,000 tonnes.
Meanwhile, HKIA handled 5.1 million passengers and 32,445 flight movements during the month, up by 2.9 percent and 6.2 percent, respectively.
The double-digit growth in cargo throughput was driven mainly by exports and transshipments, which were up 10 percent and 17 percent, respectively, from a year ago. During the month, cargo throughput to/from Mainland China and North America improved most significantly compared to other key regions.
The increase in air cargo in March is also consistent with seasonal trends in the past, albeit with larger growth rates than usual this year.
"We are delighted that HKIA remained the world's busiest cargo airport for the fourth consecutive year," Stanley Hui Hon-Chung, CEO of Airport Authority Hong Kong, said. "In the first quarter of this year, HKIA handled 15 million passengers, 997,000 tonnes of cargo and 93,880 flight movements, representing year-on-year growth of 5.3 percent, 5.6 percent and 6.1 percent, respectively. These robust growths continue to surpass our 20-year forecast, showing the need to expand the airport is even more pressing to meet the demand."
On a rolling 12-month basis, the airport processed 4.2 million tonnes of cargo, representing an increase of 3.5 percent year over year. Flight movements grew 6.3 percent to 377,435.
Aircargo World