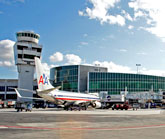 MIAMI International Airport (MIA), a major hub for American Airlines, has increased its international air freight in 2013 by two per cent year over year at 1.85 million tonnes due to growing high-tech products valued at US$68.5 billion.

Of this amount, 59 per cent was origin/destination freight and the remaining 41 per cent was shipped through MIA in-transit to third-country destinations.

Its O&D freight tonnage increased moderately during 2013 but its commercial value declined two per cent year on year due to Venezuela exports and imports' slump of 32 per cent and slowing global trade.

The airport's top export commodities of high-tech goods were valued at $1.1 billion per month from Latin America and the Caribbean alone. By value its top imports were gold, jewellery and gems, totalling $7.1 billion for the year.

It handled air imports and exports between the US and Latin American/Caribbean region at 85 per cent and 80 per cent respectively.

Its top trading partner by weight during 2013 was Colombia at 240,000 tonnes of goods. By dollar value Brazil was its other top trade partner at $13.2 billion worth of goods.
Asian Shipper News