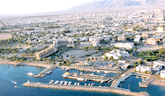 The Red Sea Port of Eilat, the only Israeli port on the Red Sea, located at the northern tip of the Gulf of Aqaba, has recently inaugurated a container feeder service to the Jordanian port of Aqaba.
The Port of Eilat, operated by Papo Maritime Ltd., has significant economic and strategic importance, mainly used for trading with Far East countries as it allows Israeli shipping to reach the Indian Ocean without having to sail through the Suez Canal.
The newly inaugurated service uses a small feeder vessel, SS Otter, with a container capacity of TEU 124, which sails between the Eilat Port and Jordan's Aqaba Port 30 minutes away.
Despite the high costs of moving containers by road to Eilat, the port believes that there is a potential for Israeli exporters using Aqaba Port. Eilat Port CEO Gideon Golbar noted that the Aqaba Port has some important advantages to the Israeli shipping community.
Most containers arriving at the port of Aqaba contain imported goods to Jordan, resulting in container ships departing the port with large number of empty containers. This very fact makes it highly possible for Israeli exports to ship containers to Far Eastern ports for as low as US$250 per container, compared with the $400-550 freight rate charged by shipping companies departing from Ashdod to the same Far Eastern destinations.
A second advantage is the possibility of shipping goods. At low freight rates, to Arab countries, especially in the Persian Gulf region.
Port2Port