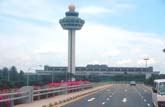 SINGAPORE Changi Airport handled 151,400 tonnes of cargo in January, an increase of 3.8 per cent from a year ago, according to the Changi Airport Group (CAG).

The growth in air freight volume was due to air shipments picking up ahead of Chinese New Year, which this year occurred 10 days earlier at the end of January, said CAG.

Official statistics show that the airport handled 4.60 million passengers in January up 6.3 per cent year on year. Air traffic was 7.6 per cent up in January with 30,400 take-offs and landings.

Passenger traffic was boosted with an increase in intra-Asia and Middle East air travel. Double-digit growth was registered for travel to and from China, Hong Kong, Indonesia, Japan, Malaysia and Vietnam, though Bangkok traffic fell 25 per cent.

More than 100 airlines operate at Changi Airport, connecting Singapore to 280 cities in about 60 countries and territories worldwide. With more than 6,900 weekly scheduled flights, an aircraft takes off or lands at Changi every 90 seconds.
Asian Shipper News