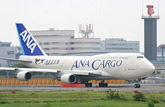 Changi Airport Group (CAG) welcomed the arrival of ANA Cargo's inaugural flight from Okinawa, Japan, a new freighter city link for Changi Airport.

The Japanese freight carrier will operate six weekly Okinawa-Singapore-Tokyo Narita services, utilising the Boeing 767-300F aircraft.

With strong demand for fresh and high-quality Japanese food products, this new service will widen distribution channels for these products to Singapore and its neighbouring markets.

ANA Cargo will also be able to tap dedicated temperature-controlled facilities at Changi Airport to extend the cold supply chain for perishables and pharmaceuticals, as well as increase transhipment cargo loads to Southeast Asia and South Asia.

Despite challenging conditions in the global cargo market, ANA Cargo has been forging ahead, increasing its flight frequency and upgrading its aircraft to ramp up operations at Changi Airport. The airline also recently relocated its Asia cargo office from Hong Kong to Singapore, which serves its networks across Southeast Asia and South Asia.


Cargonews Asia