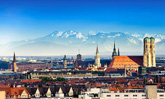 From May 9, AirBridgeCargo Airlines, the largest Russian scheduled cargo airline and part of Volga Dnepr Group, is expanding its services in Central Europe by introducing direct services to and from Munich with a Boeing 747 freighter.

The new Munich flight to Moscow's Sheremetyevo airport will be in addition to the four existing weekly Boeing 737 flights operated by Atran Cargo Airlines, also part of Volga Dnepr Group.

The B747 all-cargo flight between the Bavarian capital and ABC's hub in Moscow operate every Friday at midday.

"As Southern Germany continues to be a major industrial growth area, the decision to expand our services by introducing a direct Boeing 747 flight from Munich to Moscow was a logical step for us. This will increase ABC's ability to offer customers in Germany fast connections to and from the Russian market as well as to the airline's international network via its Moscow hub," said Andrey Andreev, head of ABC business development in Europe.

"Being able to offer connections to the largest Asian gateways such as Shanghai, Beijing, Chengdu, Zhengzhou, Hong Kong, Seoul and Tokyo-Narita will make ABC a top product for the Bavarian air cargo community, and the direct freighter link between the Bavarian capital and Russia will add attractiveness to our product," added Walter Morris, head of business development of ABC in Southern Germany.
Cargonews Asia