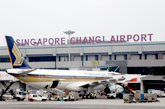 SINGAPORE Changi Airport's cargo volume in April grew 0.6 per cent to 151,100 tonnes compared to the same month 2013.

Its passenger figures were more positive for April showing growth of 3.4 per cent to 4.38 million passengers supported by an increase in travel between Singapore and all regions except the Americas.

Growth was in double-digit increases to and from Hong Kong, India, Indonesia and Japan against Thailand and China's declines of 15 per cent and eight per cent respectively.

On a rolling 12-month basis, passenger traffic at Changi Airport crossed the 543 million mark for the first time in history with 54 million passenger movements recorded for the year ended April 30, 2014.

During the month, airlines joining included Uzbekistan Airways launch of its first direct service to Central Asia and a twice-weekly circular routing service between Tashkent and Singapore. Tashkent is a new city link for Changi Airport.

Low-cost carrier Spring Airlines also launched a thrice-weekly Shanghai-Singapore service April 24 and AirAsia launched a four-times weekly service to Kota Bharu and a thrice weekly service to Kuala Terengganu.
Asian Shipper News