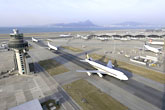 Hong Kong International Airport (HKIA)'s cargo in April grew by 6 percent year over year to 362,000 tonnes.
Continued growth in cargo throughput was driven mainly by transshipments, which were up 18 percent from a year ago. During the month, cargo throughput to and from Mainland China improved most significantly compared to other key regions.
"If we combine the traffic figures for March and April to even out the effects of the Easter holidays, we see strong year-on-year increases in passenger volume (6.2 percent), cargo tonnage (8.2 percent) and flight movements (6.6 percent)," Stanley Hui Hon-chung, CEO of Airport Authority Hong Kong, said.
For the first four months of 2014, HKIA handled 1.4 million tonnes of cargo and 126,595 flight movements, registering year-over-year growth of 5.6 percent and 6.3 percent, respectively.
On a rolling 12-month basis, cargo tonnage increased 3.6 percent to 4.2 million tonnes over the same period last year. The airport handled 379,600 flight movements during the period, up 6.5 percent.
Aircargo World