USA-headquartered Supply & Demand Chain Executive, the executive's user manual for successful supply and demand chain transformation, has included Hong Kong-based industry leader Mark Millar in its latest annual listing of Pros-to-Know in Supply Chain.
The 2014 Provider Pros to Know is a listing of individuals who have helped their Supply Chain clients or the Supply Chain community at large prepare to meet the industry challenges they face in the year ahead.
As managing partner of M Power Associates, Mark leverages 25 years global business experience and an exclusive network of best-in-class supply chain practitioners to provide value for clients with informed and independent perspectives on their supply chain strategies. His series of 'Asia Supply Chain Insights' corporate briefings, consultations and seminars help companies navigate the complex landscapes in China and ASEAN, improve the efficiency of their supply chain ecosystems and make better-informed business decisions.
Speaking from the Multi Modal trade show in Birmingham, England – where he is hosting a seminar on 'China Supply Chain Strategies' – Mark said: "I am honoured to be named in this prestigious listing of supply chain leaders, which reflects my continued focus on helping clients to understand and improve their global supply chain ecosystems. These ecosystems play a crucial role in enabling global trade, highlighting why all businesses should put Supply Chain firmly on the strategic agenda in 2014."
Barry Hochfelder, editor of Supply & Demand Chain Executive, said: "Supply Chain is increasingly recognized as a strategic differentiator and Supply Chain Leaders have become crucial to the success of the enterprise in meeting the challenges of what truthfully has been called a turbulent economy. Our Pros to Know listing highlights many of these outstanding executives and their accomplishments."
"This honor highlights the many thought-leaders who are helping to shape the Supply Chain industry and advance Supply Chain as a respected discipline in the enterprise," Hochfelder added. "Their efforts in developing the tools, processes and knowledge base necessary for Supply Chain transformation, and in promoting new approaches to supply chain enablement, have earned them a place on this year's Pros listing."
Well-known throughout the logistics and supply chain communities across Asia, Mark has been based in Hong Kong since 2005, prior to which he lived and worked in industry roles in Shanghai, Sydney and Singapore. Acknowledged as an engaging and energetic presenter, Mark has been engaged as speaker, moderator, MC or conference chairman at over 300 events in more than 20 countries.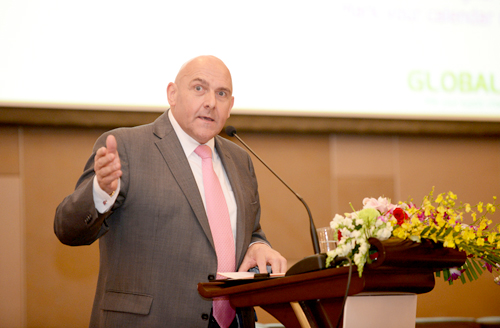 MM Speaking at Global SCM Summit Shanghai 11-2013