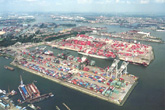 Container traffic in Rotterdam inched up just 0.3 percent in the first quarter, as Europe's biggest container hub confronted continuing overcapacity in the Le Havre-to-Hamburg port range and changes in the container shipping sector.
The Dutch port handled 2.905 million TEUs in the first three months of the year, up from 2.898 million TEUs in the same period in 2013. The increase in containers was shared between the long-haul trades with Asia and North America and short-sea routes to and from the Baltic and the U.K.
Total throughput declined 0.2 percent year-over-year to 108.9 million metric tons, against 109.1 million metric tons last year, as drops in shipments of crude oil, mineral oil products and other bulk liquids offset increases in coal, iron ore, scrap and agribulk products.
The port authority said Rotterdam is facing pressure from changes in container shipping as carriers build ever-larger ships and forge alliances at the same time, as extra terminal capacity is being built in many northwest Europe ports while economic growth is lagging.
The port face challenges from other structural developments, including overcapacity in European oil refining and the rapid rise in America shale gas, which is putting pressure on investments in the European chemicals sector.
Roll-on, roll-off traffic rose 9 percent to 4.8 million metric tons, driven by the economic recovery in the U.K., and other general cargo, including steel, paper, fruit and project cargo, increased 8.9 percent to 1.38 million metric tons.
The Journal of Commerce