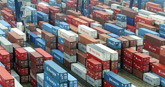 Heavy congestion at Europe's largest container port due to late arrivals of line-haul ships and other factors could last through the summer, short sea carriers are being warned.
Short sea lines have seen their schedules disrupted since mid-April at Rotterdam terminals and could face at least two more months of up to 48-hour delays. Congestion described as "severe" at the ECT Delta terminal has had a knock-on effect on other terminals at Rotterdam, according to OPDR, a German carrier that deploys 11 vessels on routes from north Europe to Spain and Portugal and North and West Africa.
"We were informed by the terminals that this situation will last for at least another one to two months," the company said.
ECT, a unit of Hong Kong's Hutchison Port Holdings, operates three Delta terminals, the largest able to handle container vessels up to 14,000 20-foot-equivalent units (TEUs). Rotterdam handled 2.9 million TEUs in the first quarter of the year, an increase of 0.3 percent on the same period in 2013.
The Journal of Commerce