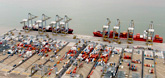 DP WORLD's London Gateway port and logistics park has been attracting a string of new shipping and port services, including logistics, ahead of the opening of a second berth that doubles the deepwater port's capacity.

Five new shipping routes to North America, South America's east and west coast, the Middle East and Europe are starting. New rail, road and container services are also coming, a company statement said.

The G6 Alliance has commenced a new service, while the looming arrival of APL's Margrit Rickmers will signal the start-up of the Pacific Atlantic (PA2) service.

The New World Alliance (APL, HMM, and MOL) previously operated a service similar to the PA2 that called at Felixstowe port. Now, with the G6 Alliance's (APL, HMM, MOL, Hapag Lloyd, NYK and OOCL) participation the service will call at London Gateway.

At the beginning of the month new services were launched by Hamburg Sud and Hapag Lloyd to South America and the Middle East. Hapag Lloyd has started calling at the port on two new services, the South America east coast (SAEC1) service and the South America west coast (SAWC1) service.

The German carrier has also started up the Europe Pakistan India Consortium (EPIC) service, also known as Hapag Lloyd's Indian Ocean Service.

Feeder line X-Press Feeders Ltd also this month began offering a weekly service linking London Gateway directly with Dublin and Rotterdam.

Freightliner and DB Schenker have also begun daily services to more inland rail destinations from the UK gateway that serves in addition to the capital, Manchester, Daventry, Wakefield and South Wales. Freightliner is now serving Birmingham, Bristol, Liverpool, Manchester, Leeds and Glasgow.

Pentalver opened a new container facility to provide empty storage, dry repair and reefer services at the new facility. All these new services come on top of the recently announced Prologis logistics hub at the on-site logistics park.
Asian Shipper News