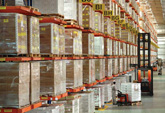 Third-party logistics provider Damco and Vietnamese warehouse owner HTM (Construction and Mechanic HTM, JSC) have opened a new warehouse in North Vietnam to support key fashion/retail customers whose sourcing patterns are centred there.

The long-term HTM–Damco partnership will lead to the development of more than 20,000 sq m of warehousing space in Vietnam over the next three years.

The new warehouse will enable Damco to play a dual role as a warehousing and distribution hub as well as a gateway to attract customers who are actively trading to/from South China via this corridor – a key focus for Damco's future development in the north of Vietnam.

The warehouse is strategically located in Haiphong, the third largest city of Vietnam and northern Vietnam's most important seaport with its deep-water anchorage and large maritime facilities.

The warehouse offers a total combined space of 8,000 sq m. It is built to very high international and C-TPAT standards, is well positioned to support increased volumes, and offers modern safety, security and fire-fighting systems.

A key focus during construction and operation is the reduction of carbon emissions in accordance with Damco's environmental policy.


Cargonews Asia