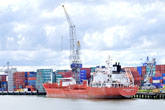 The Netherlands' port infrastructure has been ranked as the best internationally by the World Economic Forum, according to its Global Competitiveness Report, which analyzes the competitive position of national economies worldwide.
"The fact that the Netherlands has the best port infrastructure in the world is due to a large extent to our continued investment in the Port of Rotterdam during the past years, for instance with Maasvlakte 2," said Hans Smits, CEO of the Port of Rotterdam Authority, in a written statement. "We base these investments on a widely supported vision of the development we desire for the port: the Port Vision 2030. And we do that together with all the parties involved: municipality, ministries, the business sector and [non-governmental organizations]."
Singapore and Hong Kong received second and third place respectively in the port infrastructure ranking, followed by the United Arab Emirates and Finland. The rankings are derived from the WEF's Executive Opinion Survey.
The report's ranking for best infrastructure overall listed Switzerland, Hong Kong and Finland as the Top 3, all of which scored highly on innovation. Germany and the U.S. came in fourth and fifth, respectively.
In terms of quality of roads, the UAE, France and Oman were ranked as the best three countries. For railroad infrastructure, Japan, Switzerland and Hong Kong received the top spots, while Singapore, Hong Kong and the UAE topped the list for air transport infrastructure.
The Journal of Commerce