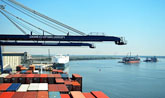 THE Port of Charleston in South Carolina handled 133,481 TEU in November 2013, representing an increase of six per cent compared to the same month last year.

A statement from port authorities said export volumes have been strong throughout the year. Loaded exports in November increased 9.6 per cent year on year to 55,448 TEU. Overall volume increased 7.3 per cent fiscal year-to-date (July-November) to 266,440 TEU.

Shipments of agricultural products, particularly grain, were a significant driver of export gains. Agricultural exports alone have increased 16 per cent since 2009, prompting South Carolina's ports to add five transloading operations in the last three years.

"Exports are driving our growth well above the industry average and our deep harbour facilitates the handling of additional export cargo," said South Caroline Ports Authority president and CEO Jim Newsome. "I expect we will continue to see exports trending upward through the rest of the decade, ultimately balancing imports."

Breakbulk cargo segments also saw growth in November. Since the fiscal year began, the Port of Charleston has exported 191,862 breakbulk tons. Volume at the Union Pier terminal was up 169 per cent fiscal year-to-date, due in part to rising imports from Eastern Asia of pipe used to support various mechanical applications and wire for the manufacturing industry.


Asian Shipper News