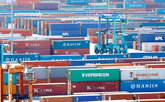 October container volumes at the East Coast ports of Charleston, S.C., and Norfolk, Va., made substantial gains from the same month a year ago as the peak shipping season appears to have maintained momentum a bit further into the fall.

Container throughput at the Port of Charleston grew 16.8 percent to 141,049 TEUs compared to October 2012, the South Carolina Ports Authority reported. Exports growth was driven by a rise in grain and other agriculture products shipped via container. Since the beginning of the fiscal year in July, Charleston has handled 554,867 TEUs, up 6.44 percent from the same period a year ago. Year-to-date, the port has handled 1.48 million TEUs.

Meanwhile, the Port of Virginia at Norfolk had the strongest single-month in its history with 206,597 TEUs moved, an increase of 17.8 percent versus October 2012, according to the Virginia Port Authority. It attributed the growth to discretionary, peak season cargo. The port eclipsed the previous record of 205,137 TEUs set in July.

The port authority also said the amount of cargo moving in and out of its terminals by rail has grown 14.7 percent year-to-date through October compared to the same period a year ago. The port is now moving more than a third of its volume by rail.

Export volume of 107,630 TEUs slightly exceed import traffic. Export TEUs grew 24.9 percent, while imports grew 12 percent. For the calendar year, imports are up 9.2 percent and exports have increased 5.9 percent.

American Shipper News