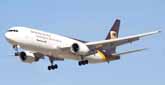 UPS announced the opening of 10 new UPS Express centers in Mexico, including in Monterrey, Tijuana, Chihuahua, Veracruz, León and Distrito Federal.
With the opening of these new centers, UPS will increase its presence among small and medium enterprises (SMEs) and the retail sector.
"UPS's goal is to reach SMEs by providing consulting, solutions and a broad portfolio of national and international services that will help their growth. Together, these 10 Express centers – five in the north region, four in the central zone and one south – will help our customers better connect to the world economy through the UPS global network," Milton Magos, commercial director, UPS Mexico, said.
The new UPS Express centers will include domestic and international shipping services as well as technology services and logistics. In the event that a customer is unable to directly ship his merchandise, UPS Express centers will provide pick-up services within a distance of 1 kilometer (0.62 miles).
"UPS has the infrastructure required to connect customers and companies with the rest of Mexico and the world," Magos said. "The goal of our expansion plan is to strengthen UPS's presence in key cities by providing our wide portfolio of solutions and opening access points that are located close to SMEs and the general public."
Aircargo World