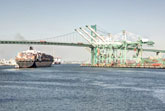 Containerized imports in Los Angeles continued to build in September for the peak shipping season, reaching a monthly high of 370,785 20-foot-equivalent container units.
The September volume was slightly larger than the previous monthly high recorded in July, although imports were down 3.75 percent from September 2012.
Year-over-year container volumes in Los Angeles have been down in 2013 because late last year two carriers shifted some calls with their largest vessels to neighboring Long Beach. As a port complex, the combined Los Angeles and Long Beach numbers are running ahead of last year.
Exports in Los Angeles declined 12.79 percent compared to September 2012. Export numbers should gain momentum soon, however, as the westbound trans-Pacific trade picks up in line with the agricultural harvest. Grains and other food products generate high-volume exports to Asia.
The combined loaded import and export container volumes in Los Angeles declined 6.55 percent in September, and when empty containers are included, total container volume was down 4.57 percent compared to September 2012.
The Journal of Commerce