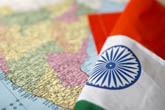 Vanguard Logistics Services, a leading non-vessel-owning common carrier and ocean freight consolidator operating primarily in North America, has entered into a strategic alliance with Freight Systems India, a similar organization with offices at all major locations in the country.
The alliance aims to provide increased shipping and logistics services at major ports in India, leveraging combined strengths, and to accelerate business activities through joint efforts.
"With this initiative, Vanguard will have staff in 16 cities in India to offer customers over 30 direct export services, as well as onforwarding from the key origin points of Mumbai, Delhi, Chennai, Kolkata, Tuticorin and Cochin," according to a joint statement. "This new structure will now oversee over 45 direct weekly and multiple weekly import services offered in Vanguard's global network to all major ports in India."
Established in 1988, Freight Systems has its headquarters in the United Arab Emirates and subsidiaries in Europe and North America.
The Journal of Commerce