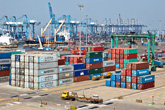 State-owned major ports in India recorded moderate levels of container throughput growth during April and May, the first two months of fiscal year 2014-15, compared with a year earlier, according to the latest traffic data released by the Indian Ports Association.
Cumulative traffic for the two-month period was estimated at 1.28 million 20-foot-equivalent units, rising 3.5 percent year-over-year from 1.24 million TEUs. Containerized cargo tonnage grew 5.6 percent to 19.8 million tons from 18.8 million tons.
The volume of containers shipped via Jawaharlal Nehru Port Trust, also known as Nhava Sheva, climbed 3.6 percent to 719,000 TEUs from 694,000 TEUs. The west coast port, which is in the midst of a major capacity expansion, handles more than half of India's total containerized export and import cargo.
Chennai Port, the country's second-largest box gateway, boosted volume by 3 percent, reaching 251,000 TEUs, compared with 244,000 TEUs a year earlier. Traffic at the eastern Port of Kolkata, which includes Haldia Dock, increased to 93,000 TEUs from 91,000 TEUs.
Tuticorin Port, now renamed V.O. Chidambaranar, moved 90,000 TEUs, up 14 percent from 79,000 TEUs. Volume through DP World-managed Vallarpadam Container Transshipment Terminal in Cochin Port rose 13 percent year-over-year to 60,000 TEUs.
The Indian Port Association said overall cargo tonnage at major ports surged 4.8 percent in April and May to 96 million tons from 91.5 million tons a year earlier. Of the top cargo gateways, Kandla Port led the way with throughput of 15.3 million tons, followed by Paradip, at 11.7 million tons; Nhava Sheva, at 11 million tons; Visakhapatnam, at 10.4 million tons; Mumbai, at 10 million tons; and Chennai, at 9 million tons.
In fiscal year 2013-14, which ended March 31, 2014, total cargo throughput at major ports was up 1.8 percent from a year earlier to 555.5 million tons, but yearly container volumes slipped 3 percent year-over-year to 7.46 million TEUs.
The Journal of Commerce