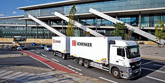 GERMANY's DB Schenker is establishing a domestic network in Turkey for procurement and distribution, having already completed the first and second phases of the expansion, the company announced.

Germany is the most important export destination for Turkey, followed by the United Arab Emirates, India and the US. The automotive industry is the country's largest export sector, followed by machines, iron, steel and textiles, the Schenker statement said.

"Having our own land transport network in Turkey will enable us to cover yet another important market for our customers," said Schenker director Karl Nutzinger, in charge of overland transport.

The first phase extends from the starting point in Edirne, near the Bulgarian border to the distribution points at Bursa south east of Istanbul and Izmir further south on the Ionian coast.

The second phase encompasses transport between Eskisehir, 200 kilometres west of Ankara; Afyon, 250 kilometres southeast of the capital and Antalya on the south coast.

Phase three, beginning in Istanbul, extends from Ankara 200 kilometres to the south east to Aksaray and Mersin on the south coast nearer the Syrian border all the way to Ganziantep close to the Syrian border, with further route dispersal in up to eight directions into the interior from the respective bases.

Principal importers include Germany, the US, China including Hong Kong and France. DB Schenker is active primarily for customers from the automotive, electronics, machine, crystal glass and pharmaceutical sectors.
Asian Shipper News