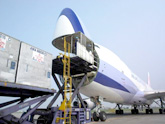 China Airlines launched a new Taoyuan, Taiwan-Nanjing, China-Zhengzhou, China cargo route, extending its existing Taoyuan-Nanjing route to Zhengzhou in central China.
Every Saturday, China Airlines operates the route with a B747-400F via Nanjing. For the first time, cross-strait carriers are allowed to operate cargo flights to inland China via an intermediate stop en route, with Zhengzhou, a major production base of international mobile phone manufacturers, the only approved final destination.
The new route helps airlines consolidate cargo shipments in central China and balance loading.
The round-trip flight between Taoyuan and Zhengzhou via Nanjing runs just under six hours. Among other shipments, the inaugural flight Oct. 19 carried electronic components and consumer goods to Zhengzhou, and mobile phones, electronic equipment and machinery on the return flight.
As the second-largest city in central China and the area's main economic center, Zhengzhou has attracted large investment from abroad and from China's seaboard regions. The city is a stated target under China's Five-Year Plan, which identifies main areas of development.
Zhengzhou has a competitive advantage in many industries, including textiles, machinery, construction materials and energy. The city is focused on the information technology, automobile, equipment manufacturing, biotech and pharmaceutical, and branded apparel industries.
Aircargo World