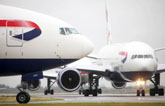 IAG Cargo's commercial revenue decreased by 14.1 percent during the third quarter compared to the same quarter in 2012.
Commercial revenue during the third quarter of 2013, which runs from July 1 to Sept. 30, reached 256 million euros (US$341.8 million). Changes in exchange rates, in particular the strengthening of the euro against other currencies over the last year, have had a significant effect on revenues.
At a constant exchange rate, third quarter revenue would be down 9.4 percent.
Cargo volumes were down 7.7 percent, and cargo capacity fell by 2 percent. Overall yield for the quarter decreased by 7 percent versus the same period in 2012. Excluding the effect of exchange brings this to a 1.9-percent decrease.
"Air cargo demand remains weak, and our results have been significantly impacted by exchange rate movements," Steve Gunning, managing director at IAG Cargo, said. "Despite the difficult trading conditions, we have managed broadly to protect our yield thanks, in part, to the strong performance of our premium product range. Our focus on premium products and network continues. We recently opened the Constant Climate Centre at Heathrow for handling pharmaceuticals as well as launching a new route to Austin, Texas, and expanding services to Hyderabad, which is a major center for India's pharmaceutical industry."
Aircargo World